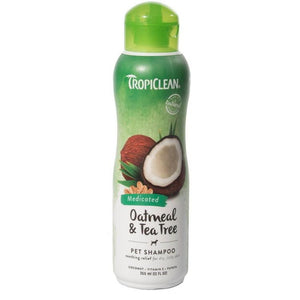 Medicated to soothe skin
Oatmeal & Tea Tree Dog Shampoo to relieve dry, itchy skin
TropiClean Oatmeal & Tea Tree Pet Shampoo soothes dry, itchy skin so your pet feels and smells oh-so-nice. Natural salicylic and tea tree to eliminate flaking, dandruff, and scales. Made with vitamin E, Oatmeal & Tea Tree Shampoo keeps skin and coat healthy and snuggle-ready. For dogs only (safe for their humans, too).
Earth friendly
bottle made from 50% recycled material
soap-free
so it won't affect spot-on flea products
70% organic
quality ingredients for a natural clean
Ingredients
Purified water, mild coconut cleanser, avena sativa oatmeal, natural salicylic acid, organic blend of (chamomile extract, aloe extract, pomegranate extract, kiwi extract, yucca extract, papaya extract), hydrolyzed plant protein, fragrance, vitamin E, tea tree.